COMPLETE EXPERIENCE PAST VIEW
Discover Seville with the five senses.
With "The complete Experience" you will see the past, the present and the future; you will enjoy the flavors and smells of Seville; you will delight with the touch and sounds of history. A complete package for a unique visit.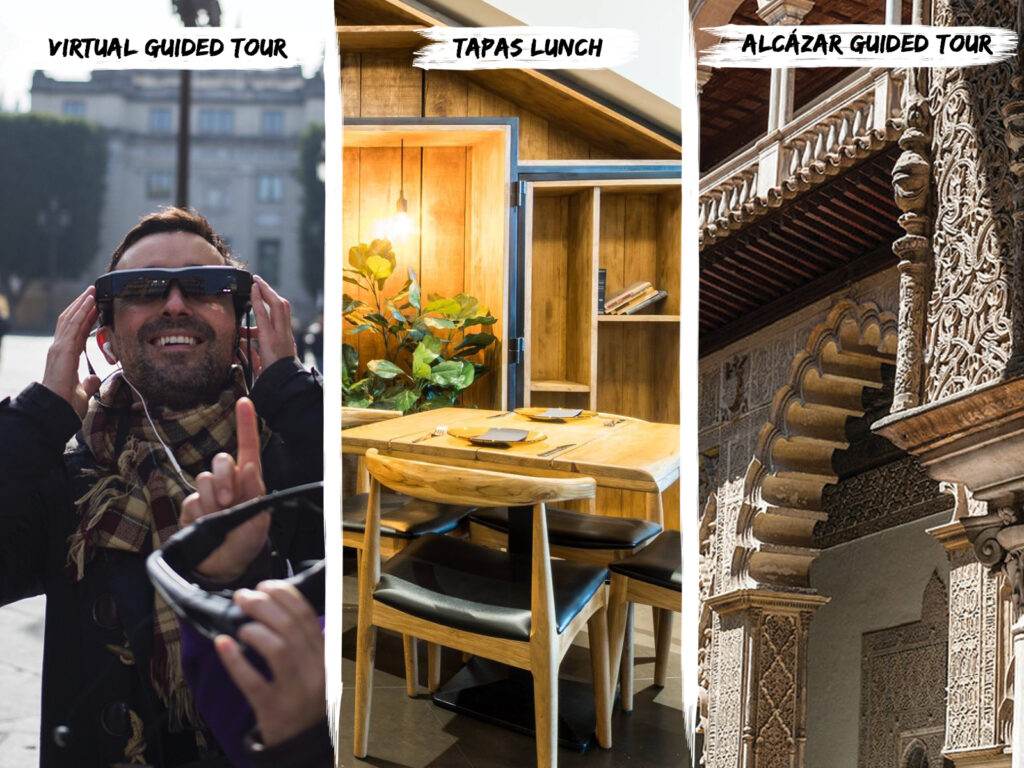 VIRTUAL GUIDED TOUR. Past View offers you a guided tourist route with smartglasses (virtual reality glasses) for the most emblematic places of Seville
Through this device, which uses virtual reality and augmented reality, the user will visit the heritage of the city at different times in the past.
From 11:00 am to 01:00pm
TAPAS LUNCH. La Gorda de las Delicias is a tapas bar that offers a fusion of traditional and contemporary cuisine. A unique place, with a design atmosphere, offering a select treatment and, most importantly, tasting high quality tapas.
From 01:15 pm to 02:15 pm
ALCÁZAR GUIDED TOUR.
Encounter, with Voyager Seville Experience, the jewel of the city: the oldest and most complex royal residence in use in Europe and an expression of the diverse cultures that feature in our history.
Discover Seville's Real Alcazar which witnessed Roman, Visigothic and Arab Seville flourish.
From 02:30 pm to 04:00 pm.
SCHEDULES AND MEETING POINT
From Tuesday to Sunday. 11:00 am
Meeting point: Past View's desk. Setas de Sevilla, floor -1 (Plaza de la Encarnación)
PRICES
Price: 65€ (40€ kids up to 12 years old *)
* smartglasses since 9 years old
ADDITIONAL INFORMATION
Included:
Past View Sevilla guided tour (2 hours)
Lunch with tapas (3 tapas + 2 drinks+ 1 dessert)
Real Alcázar guided tour (90min) + radioguide + official guide
Languages:
English: Tuesday to Sunday
Spanish: Wednesday, Friday, Saturday and Sunday
French: Tuesday and Thursday